O'Connor Uniting Church has a Children's Playground available for hire. 
The playground is surfaced with artificial grass and soft fall foam. In the playground there is a shaded and covered sand pit and a cubby house.
The playground is securely fenced and has a childsafe gate. It can be accessed from the Meeting Room which has a clear view of the playground and is comfortably furnished.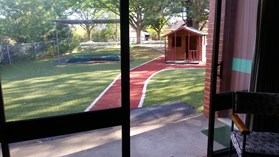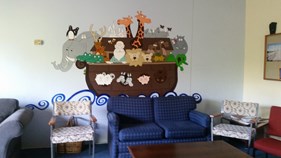 The Meeting Room has access to a kitchen, which has a kettle, kitchen utensils, a microwave, a dishwasher and an oven. Please discuss arrangements for using the kitchen with the Office Administrator when making a booking. 
The ladies rest room has a nappy change table. 
We would welcome inquiries from children's playgroups. The playground is currently available each week day other than Thursday. 
To make a booking inquiry please call the Office Administrator on 
(02) 6247 7766. At present the office is attended on Tuesday and Thursday afternoons  3.00 pm to 5.30 pm and Fridays 10 am to 3 pm. At other times please leave a message on the answering machine, or you may send a message through this website under 'Contact Us'.
As stated under Hire of Facilities, you will require your own Public Liability Indemnity Insurance for the duration of the hire, and no smoking, alcohol, drugs or gambling are permitted in the buildings and within five metres of building entrances.