Welcome to O'Connor Uniting Church
O'Connor Uniting Church is located on the corner of Scrivener and Brigalow Streets in the suburb of O'Connor, Canberra, ACT.
Worship commences at 10am and Holy Communion is included in the Service on most Sundays. After the Service please join us for morning tea in the church hall.
All are welcome!
About O'Connor Uniting Church
O'Connor Uniting Church is part of the Uniting Church in Australia, which is the third largest Christian denomination in Australia. The Uniting Church is a fellowship of reconciliation, living God's love and acting for the common good to build a just and compassionate community.
O'Connor is a congregation that is:
founded on the Word of God
led and empowered by the Holy Spirit
functioning within the Basis of Union of the Uniting Church in Australia
Here at O'Connor we seek to build one another up in love. That means:
encouraging one another
offering grace to one another in our attitudes and conversations
supporting one another through difficulties
praying with and for one another.
As God loves us through Jesus, we are to grow in the practice of love for one another and for our neighbours.
Our Mission
Our mission is to know, serve and proclaim Christ.
Our Vision
As a local congregation we've discerned together our particular shared vision and mission. Our vision statement agreed at the congregational meeting of 30th June 2013, is:
"To re-present the love of Christ to the whole community"
We are called to be a Christian community that learns to live in love.
When Jesus looked at his disciples he gave them a new commandment: To love one another. As Christians we are Jesus' disciples and this commandment is our foundation "Just as I have loved you, you also should love one another" (John 13:34). This is the model; it's what God keeps bringing us back to.
The apostle Paul said to the Church at Corinth that if you do not have love you have nothing. It's out of love that the Kingdom grows.
The Gift of Love
"If I speak in the tongues of mortals and of angels, but do not have love, I am a noisy gong or a clanging cymbal. 2 And if I have prophetic powers, and understand all mysteries and all knowledge, and if I have all faith, so as to remove mountains, but do not have love, I am nothing. 3 If I give away all my possessions, and if I hand over my body so that I may boast, but do not have love, I gain nothing". (1 Corinthians 13:1-3)
History of O'Connor Uniting Church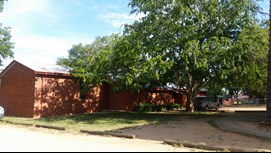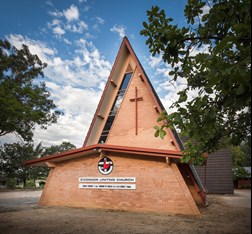 In 1953 the neighbouring Reid Methodist Church quite literally "planted" this church in the (then) new suburb of O'Connor, its members and the minister digging with pick and shovel, and laying the foundations of what is now the hall, by hand.
The love and commitment which marked these beginnings must have been planted into O'Connor along with the bricks and mortar, to be shaped and moulded over the years in such a way that the United Theological College now uses O'Connor's history as a case study!
(Susan Emilsen and William W Emilsen: Testing the Spirit: a brief history of O'Connor Uniting Church Parish).
However more important to the present members of O'Connor is the reality that Jesus is alive, that Christ is still committed to living and working in their midst as His Spirit is permitted to guide, heal, deliver and release people into His ministry and service.
The booklet, "O'Connor Uniting Church: ministerial reflections on the last 50 years" was produced in 2004 to mark the church's 50th anniversary. It provides a penetrating and honest look at one church's life prior to, and following, charismatic renewal.