No services until further notice in the current context of the growing COVID-19 pandemic.
What can we do, now, in our church building? 7 June 2020
The NSW/ACT Synod and Canberra Region Presbytery have provided documentation this week for church councils to examine with a view to developing a COVID-Safe Plan that must be submitted by each church and approved by Synod and Presbytery before the church can re-open. There are many factors to consider, such as maintaining social distancing, singing, communion, greetings, limiting numbers, keeping records of attendees, cleaning requirements, food handling, our ageing congregation and keeping our vulnerable people safe.
Please pray for our church council executive for wisdom and guidance as they consider all the issues for our church and other users of our facilities for forming a COVID-Safe plan and when it would be feasible for us to re-open.
Excerpt from a pastoral letter by the Canberra Region Presbytery 3 June 2020
Leaders of our church, from across every Presbytery, and in the Synod, have been meeting each week for the past ten weeks. This week, the leadership group approved a set of resources which have been prepared to assist each Church Council, as they discuss, plan, and prepare to resume church activities on church property.
Those resources are detailed, comprehensive, and carefully conceived. They will help each of our Church Councils to develop a set of COVID Safety Plans, one for each activity taking place in our church. Together, these Safety Plans will provide us with a COVID Safe Roadmap to re-gathering."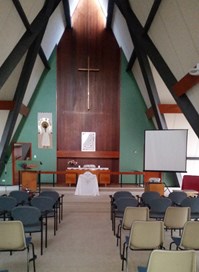 O'Connor Uniting Church is located on the corner of Scrivener and Brigalow Streets O'Connor in the inner north of Canberra, ACT. There is parking in the church grounds off Scrivener and Jarrah Streets.