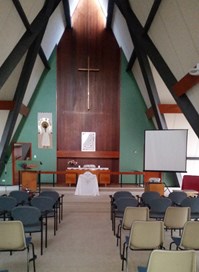 Welcome to face-to-face worship services in the church building, which have recommenced!
A COVID safe plan is in place with social distancing and maintenance of a register of attendees. Hand sanitiser is provided to be used upon entry.
We have room for visitors who are very welcome. 
O'Connor Uniting Church is located on the corner of Scrivener and Brigalow Streets O'Connor in the inner north of Canberra, ACT. There is parking in the church grounds off Scrivener and Jarrah Streets.