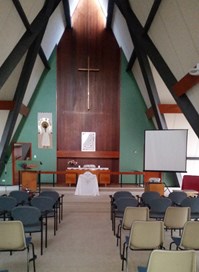 The Uniting Churches in the Inner North are holding services on a rotational roster until the end of January. The O'Connor Uniting congregation will be attending the rostered church services until 24th January 2021. Please see details of the roster below for the remaining Sundays. 
Sunday 17 January 9.30 am St Ninian's Uniting Church, Cnr Mouat and Brigalow Sts, Lyneham
Sunday 24 January 10.30 am St Margaret's Uniting Church, Cnr Antill St and Phillip Ave, Hackett
Our services at O'Connor will recommence on 31st January and visitors will be welcome.
A COVID safe plan is in place with social distancing. Please use the Check in CBR app to register upon arrival if you have it on your phone. A manual register of attendees is also available. Hand sanitiser is provided for use upon entry.
 O'Connor Uniting Church is located on the corner of Scrivener and Brigalow Streets O'Connor in the inner north of Canberra, ACT. There is parking in the church grounds off Scrivener and Jarrah Streets.