Easter 6
Bible Readings
First reading: Acts 17:22-31
Psalm: Psalm 66:8-20
Second reading: 1 Peter 3:13-22
Gospel: John 14:15-21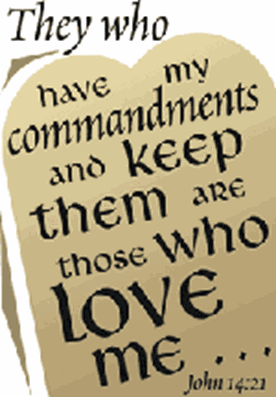 "They who have my commandments and keep them are those who love me;
and those who love me will be loved by my Father, and I will love them and reveal myself to them."
John 14:21
Prayers
We pray for comfort and peace for all who are lonely, distressed, struggling financially or struggling in other ways during this difficult time.
We pray for all our church family during this time of social isolation, especially remembering those living alone and those with health concerns.
Father, we lift our prayers to you for the community and faith groups who used our facilities before the COVID-19 shutdown. This week we remember the members of the Canberra Monaro Emmaus Community and the members of the Tongan United Church. During this shutdown may your presence be felt by their members and they be kept safe.
A Thanksgiving Prayer
Thank you Lord for your creation.
For the echidna I saw crossing our street.
So slow, so very shy and so discreet.
I look at the stars in awe, so much energy, So far away,
so little known about their history.
I look at the birds, the insects, the animals and I see
your balance, beauty and love.
What a wonderful creation a snail is, equipped with
a mobile home wherever it goes.
Remind me how to respect, enjoy and nurture
your creation.
Amen.
COVID-19 Information Update
Dear friends across the Presbytery,
A new Information Update has been issued by the leaders of all Presbyteries and the Synod. The Information Update relates to questions about when the church might be able to gather in person.
Having taken notice of the advice that is available regarding the risks of gathering in groups at this time, the strong recommendation from our leaders is that we should not be meeting in person for services of worship or face to face meeting in our churches.
This situation will stay in place for the foreseeable future. There will undoubtedly be requests that groups or congregations be allowed to gather. Can we encourage you to hold fast to this recommendation with your own community of faith. The view of our leaders is that the many risks involved in meeting together, even in smaller groups, are too high. We do not want to contribute to any new spreading of the virus. Continuing to practice self-isolation, and social distancing when in any public place, is critically important.
You can read the full Information Update at https://nswact.uca.org.au/media/8680/covid19-information-guide-gathering-12-may-2020v2.pdf
To assist you in having the conversations that will, inevitably, arise in the coming weeks, John Squires has written a blogpost which canvasses the factors involved, and offers some reflections about the values, principles, and biblical passages which undergird this decision. We encourage you to read this, as well:
https://johntsquires.com/2020/05/11/when-we-come-together-2-values-and-principles-in-the-midst-of-a-pandemic/
Synod personnel are always willing to speak with you about the issues involved in this document, or any issues relating to COVID-19. Please email Covid19@nswact.uca.org.au
Both of your Presbytery Ministers and the Presbytery Operations Manager are also willing to be consulted about any matters that arise from this Information Update, or any other matters in the life of your Congregation. Please do not hesitate to contact Janise, Andrew or John if you have something that needs discussing.
Please be assured of the prayers of your Presbytery staff and officers as we step into the next phase in this challenging period of our lives together.
With best wishes
Rev Dr John Squires, Presbytery Minister—Wellbeing
Rev Andrew Smith, Presbytery Minister—Congregation Futures
Janise Woods, Presbytery Operations Manager
Pastoral Letter from Rev Andrew Smith, Presbytery Minister: Congregation Futures
New habits - what we take forward, and what we leave behind
Soon after we entered the COVID-19 restrictions people began to wonder how the world would be changed long term by new ways for doing some things, and no longer doing other things. For the life of the Uniting Church there is the same questioning. Already people are singing the virtues of using zoom to easily bring people together without the need for travel. So, into the future some are planning to alternate regular church meetings between being in person and being on zoom. Because of the impacts of COVID-19 our habits are changing.
Michael Frost in his handy little book "Surprise the World!" is urging the church toward new habits – what he calls the "five habits of highly missional people". Now it takes time to develop habits. From research about habits that Frost cites, it took an average of 66 days until a habit was formed. (Based on that figure, we are well on the way to new habits for the church during the COVID-19 restrictions!) Of course, some habits are more challenging to develop than others and will take more time and support to establish. The five habits of highly missional people are like this – they are challenging. For that reason, Frost proposes a simple system of accountability to bed down the habits and shape you as a missionary over the long term.
His suggestion is that you "build a triad of accountability, a microgroup of three people that meets weekly (maybe over zoom!) to hold each member accountable to the habits, as well as encouraging and nurturing each other and helping each other learn from their experience of living out the habits". He calls these mircogroups: "DNAs (Discipleship, Nurture, Accountability)".
For DNA meetings, Frost provides questions that are shaped around the five habits. Spending time with these questions will lead the group in discipleship arising out of their lived missional experience. For example, a relationship that grows out of blessing someone or eating with them regularly may throw up issues that the group can workshop together, including further study of Scripture for biblical perspectives on those issues. As the triad share their lives with each other in these questions they will also nurture each other through the ordinariness and the highs and lows of being missionaries in daily life. The DNA group is also there to provide real accountability to the commitment needed to establish the habits that will shape you as a missionary.
This might sound like serious work, and it is. But Frost want you to remember that he is not asking you to do something distasteful or unpleasant. Rather, "Blessing people is personally satisfying. Eating with others is fun. Listening to the Spirit and learning about Jesus is spiritually enriching. And journaling the various ways you alert others to the reign of God is encouraging".
Through this time of COVID-19 restrictions some of our habits will change for good (both in terms of permanence and value). I pray that is the case with the five habits of highly missional people. Once again, those habits are:
I will bless three people this week, at least one of whom is not a member of our church.
I will eat with three people this week, at least one of whom is not a member of our church.
I will spend at least one period of the week listening for the Spirit's voice.
I will spend at least one period of the week learning Christ.
I will journal throughout the week about all the ways I alerted others to the universal reign of God through Christ.
For those interested in buying a copy of "Surprise the World", one of the places it is available online is: https://www.koorong.com/product/surprise-the-world-the-five-habits-of-highly_9781631465161?ref=https%3A%2F%2Fwww.koorong.com%2Fsearch%2Fresults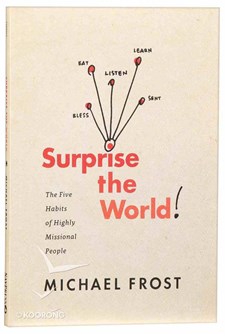 Discipleship expert Michael Frost presents five routines that make evangelism
a lifestyle that is fulfilling, effective, and easy to live out!
Discover how the BELLS model - Blessing others, Eating together,
Listening to the Spirit, Learning Christ, and being Sent by God -
spreads the gospel organically.