Sunday 18th August 2019
18 Aug 2019 by O'Connor Uniting Church in: Reflections
Pentecost 10
Bible Readings
First reading: Isaiah 5:1-7
Psalm: Psalm 80:1-2, 8-19
Second reading: Hebrews 11:29-12:2
Gospel: Luke 12:49-56
            Hebrews 12:1-2  Stay In The Race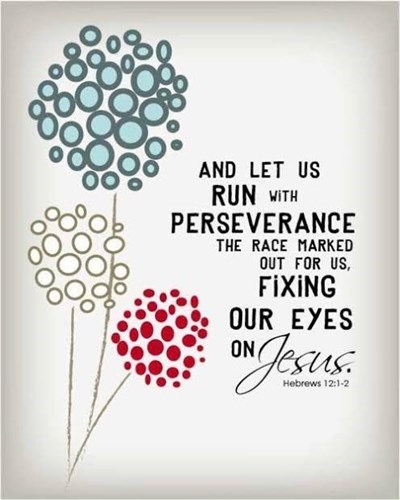 We all have a race to run. Moses had a race, Abraham had a race, David had a race, Joseph had a race and on and on throughout the bible we see how those that have gone on before us have fought through the battles of life, but continued in the race. We must do the same!
The goal in this race of faith is not perfection, but progress!!!  The prize is not given to the first one who finishes the race, nor to the swift or the strongest, but it is given to the one who endures to the end.
Remember, "stay in the race"! Keep running, keep serving and praising God, keep loving your enemy and those that spitefully use you.
God bless and tell the Lord thank you for giving us the strength to run this christian race with patience.
from Christian Daily Devotional by Minister Debra Aiken
http://www.tellthelordthankyou.com/blog/2016/8/1/hebrews-121-2-stay-in-the-race-1