Pentecost 3
Bible Readings
First reading: Genesis 21:8-21
Psalm: Psalm 86:1-10,16-17
Second reading: Romans 6:1b-11
Gospel: Matthew 10:24-39
             Whom to Fear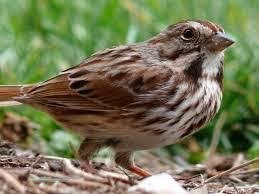 Do not fear those who kill the body but cannot kill the soul; rather fear him who can destroy both soul and body in hell. Are not two sparrows sold for a penny? Yet not one of them will fall to the ground apart from your Father. And even the hairs of your head are all counted. So do not be afraid; you are of more value than many sparrows.
Matthew 10: 28-31
We pray for:
all our church family while in shutdown and isolation, especially remembering those living alone and those with health concerns.
the community and faith groups who were using our facilities before the Covid-19 shutdown. 
wisdom for our church council in the development of the detailed Covid-Safe plans required before worship and hall hire can recommence.
wisdom for the Inner North Mission Working Party in drafting the Mission Plan and for discernment of God's missional plans for the inner north.
wisdom for government and leaders as they manage the easing of restrictions for
Covid-19.
Worship Plans
Our Council Executive is working with our Office Manager to develop Covid Safe plans that must be in place before we can resume worship services. The news so far is that we will be able to seat 18 people in the church appropriately distanced, after our plans are finalised and approved.  We won't be able to sing or use the church bibles and communion will need to be done so that there is no communal handling of the elements. Hand sanitiser will be provided by the church. Our hire groups must prepare their own Covid Safe plans and receive approval before they can meet.
Our Presbytery advises that the preparation of appropriate Safety Plans needs to be a slow and measured process. We still have a way to go, so watch this space for further information!
Creator of Beauty
Our God is the Creator of beauty.
He passionately paints the magnificent sunset,
Tenderly fashions the delicate flower,
Lovingly moulds the breathtaking landscape.
A beautiful person is the work of His hands,
But beauty of outward form
Is not the beauty He seeks in us.
God looks for the beauty of a clean, pure heart
That loves Him and seeks His ways,
A heart that seeks a way to love others.
Create in us a clean heart, O God,
That we may become a vessel of beauty,
And a delight to Your heart.
Lesley Jean Irvine
Pastoral Letter from Rev Paul Chalson, Canberra City Uniting Church Minister
Holy Disruptions
Since gathering restrictions have been in place, Canberra City Uniting Church has been posting each Sunday a pre-recorded video worship event. These include videos, readings, prayers and music, which have commonly been done by members of the congregation. As well there are short reflective messages and other, multimedia, content. Throughout the process, we have been trying, whilst remaining within a familiar structure, to create something that both takes advantage of the visual media we are employing and which is generally engaging. That two other Uniting Church congregations (currently without ministers) share these videos within their membership and some people from around the world and others who have no other current connection with any church view these videos has revealed the possibilities such media presents.
Through it all, my favourite experience of the process was one that happened between others and myself as we were physically present to each other. I was preparing to video the message for our Pentecost service. In keeping with the story recounted in Acts chapter 2, I had filmed each of my segments in the plaza onto which the church opens. For the reflection/sermon, I had positioned myself under some trees by Rudd St so that my background included the Northbourne Ave, Rudd St intersection and the light rail. As I was preparing to film three workers from one of the nearby office buildings came to sit on the bench seats and eat their lunch together. After a brief conversation in which we agreed that neither was going to bother the other, I recorded my short message. As I finished, these three people engaged me in a short but lively conversation that touched on the content of my message, the church's activity during the pandemic and our own personal life experiences of the pandemic. Whilst I had gone into a public space to record my message I did not expect that anyone would then want to speak to me about it. It was a good moment.
As we have passed through this time of social distancing and restrictions on gatherings it is true to say that the church has experienced disruption. For an institution often resistant to subtle change, we have proven ourselves capable of rapid adaptation and major change. The very essence of being able to meet and pray together which is core in our practice of faith has been desperately missed. However, we have continued to be the church active in the ministry of Christ.
At both Canberra City and To e Talatalanoa we have been conscious of the need to
maintain worship, fellowship, discipleship and care amongst the people of the two congregations
continue to minister into the community, expressing the love and grace of God in deed and word.
The two congregations, separately and together, have explored creative and varied ways to respond. Members have learnt to become adept at video conferencing technology and sharing large files online. To e Talatalanoa has distributed weekly worship material to enable households to pray together each Sunday. Study and fellowship groups as well as committees and councils are amongst the numerous groups worldwide meeting online. Pastoral carers ring around those on their care lists to offer support and prayer. City@Night, the evening worship gathering of Canberra City Uniting Church, meets each week by video conferencing with members exploring creative ways of worshipping and fellowship together via this medium. Through the worship videos, we seek to encourage active participation rather than passive watching. Members, who for various reasons were no longer able to physically attend church, have been able to reengage in the fellowship of the church. The Early Morning Centre's ministry to those experiencing homelessness continues in a modified way but one continues to offer crucial services including meals, the opportunity to shower and flu injections.
Through our intersection notice board and the use of social media, we have sought to offer messages of encouragement and social comment. We are about to experiment with launching a monthly video interview posted to our YouTube channel.
We have been disrupted by the impact of this global pandemic. Given the terrible toll this virus has inflicted worldwide, none of us would have wanted this disruption and we yearn for the development of effective vaccine. Yet the disruption has served for us a holy purpose. It has disrupted our habitual following of familiar paths and inspired creative thinking and discovery of alternate ways of being the church. It has created a moment to pause and recognize what is core to who we are, and what is dispensable. It has heightened our value of each other and those things such as being able to have a cuppa together, to sing together and even touch that we so took for granted. It has indeed created a moment when others have become interested in the church and its message.
Our challenge as the language of "the road back" begins to emerge is to take the opportunity to reflect on who God wants us to be into the future and to indeed, not seek a road back but the road forward which Jesus leads us in.
Pastoral Letter from Rev Andrew Smith - Presbytery Minister - Congregation Futures
Surprise the World with Fresh Expressions of Church
Since late last year our Presbytery has been running a course in Mission Shaped Ministry. The course aims to equip participants to start and grow fresh expressions of the church. The course defines a fresh expression as follows:
"A fresh expression is a form of church for our changing culture established primarily for the benefit of people who are not yet members of any church.
It will come into being through principles of listening, service, incarnational mission and making disciples.
It will have the potential to become a mature expression of church shaped by the Gospel and the enduring marks of the church and for its cultural context.
The course anticipates that current expressions of church that include our regular Sunday morning worship services (whether they be online or gatherings in church buildings) will continue to be important for existing members and newcomers who join our congregations. The course also makes the point that there are many other people who find current expressions of church to be obstacles to faith in Jesus Christ. Still there are others whose regular relationships don't bring them into contact with any churches. The course encourages us toward fresh expressions of church for these other people.
Such fresh expressions of church will be established primarily for the benefit of people who are not yet members of any church. So, in working toward a fresh expression we will necessarily need to be in relationships with people who are not yet members of any church.
This is one of the places where the five habits of highly missional people in Mike Frost's little book "Surprise the World" start to come in handy. The habits are designed to move us into missional relationships with people who are not already members of our churches. You see this in the habits about blessing and eating: "I will eat with/bless three people this week, at least one of whom is not a member of our church".
Practising the five habits of highly missional people lines up really nicely with finding our way into starting and growing fresh expressions of the church. You may have begun to see this in the series of "what ifs" in these articles over the last couple of weeks. In the "what ifs" about a congregation becoming missional in blessing the many community groups that use their buildings during the week, we imagined a small group of building users emerging who together are interested in learning more of Christ and listening more to the Spirit. This is an example of an emerging fresh expression. In the "what ifs" about the basketball group, we imagined a small group who will want to explore questions of life and faith together. Again, an example of an emerging fresh expression. In each of those "what ifs" the congregation members resisted the urge to give an invitation to the regular Sunday services. You may have found this odd. But they resisted because they were imagining that in some way a new form of church might grow out of their relationships with the building users and basketball players. They were imagining fresh expressions of church established primarily for the benefit of these people. Such fresh expressions of church may surprise the world.
They may even surprise the church!
Pastoral Letter from Rev Dr John Squires - Presbytery Minister - Wellbeing-
For the anniversary of the Uniting Church
On 22 June every year, across this continent, people usually gather to celebrate the formation of the Uniting Church in Australia. This year, we celebrate 43 years as this church. We may not be able to gather in person, but we still have much to be grateful for, as we mark that anniversary this coming weekend.
Recently, one of my Facebook friends posed an interesting—although challenging—question. "As we re-emerge from the Covid-19 lockdown," he wrote, "I find myself asking, 'Why seek to re-open The Uniting Church in Australia?' Or a more positive question 'What is God's specific mission for The Uniting Church in Australia today?'"
I thought much about that provocative question. How would you answer it? What is our distinct ok experience mission? How would I answer it? What are we aiming to do as this particular church?
I think that I want to respond in terms of gratitude. Gratitude for what makes us distinctive, as a particular denomination in our nation. Gratitude for some important and distinctive elements which our church offers to Australian society.
I am grateful that in this church, we have leadership speaking into the national discourse from a lay female person (President of the Assembly, Dr Deidre Palmer) alongside an indigenous pastor (President of the Congress, Pastor Mark Kickett). We have much to offer because of this leadership.
I am grateful that in this church I am able to protest the restrictive and unjust government policies about refugees and asylum seekers, on the basis of my conscientious commitment to justice for such people, and even be arrested, and still not be disciplined by my church. That is a provision written into our Code of Ethics and Ministry Practice, a fine legacy from the decades of social activism in each of our three founding denominations (Methodist, Presbyterian, and Congregational—each of which has a strong record in this area).
I am grateful that in this church I can sit each week under the teaching of an ordained woman leading worship and preaching. That is a distinctive contribution from our church. That is an important offering to Australian society.
I am grateful that in this church (when we are meeting in person) I am able to attend worship in the morning with a very faithful, very caring, utterly committed, Bible-believing, creationist; and then go back in the evening to share in fellowship with trans, intersex, and same-gender attracted people who are equally caring, equally committed. That may not be unique to the Uniting Church; but it is something that is deeply embedded in our UCA ethos.
I am grateful that in this church I am encouraged to celebrate the faithfulness of every member, each inspired and gifted by the spirit, in congregations and on committees where lay people exercise dedicated, effective leadership. What a wonderful gift that is!
I am grateful that in this church I am encouraged to work diligently and wholeheartedly in common cause with friends in the neighbourhood, seeking the common good with people of other denominations, of other faiths, and of no faith, working to inform people and politicians of the importance of addressing climate change?
I am grateful that in this church I can engage in honest, open, robust conversation with people of other faiths, sharing my faith as I learn from their faith—and, in the process, learning more about God. Certainly, other denominations engage in such interfaith conversations, but I am proud that the Uniting Church has taken the lead on this over many years, in our multicultural, multifaith society.
I am grateful, especially, that I am encouraged to acknowledge that the Creator Spirit was active and at work on this continent long before my white forebears arrived, and that I can participate in worship that affirms and celebrates that God, known to us in Jesus Christ, has also, so long ago, reached out in compassionate love to the First Peoples of Australia.
I am grateful that I can live out my discipleship by helping to dish out the free meals each Wednesday, visiting the nursing home each Thursday (when restrictions end!), joining in with the youth group on Friday evening, and counting all of these as equally varied contributions to the mission of God in the world.
I am grateful for the Uniting Church in Australia.
The above reflection is written drawing on my experience of the Uniting Church across multiple locations over many years.