Sunday 25th August 2019
25 Aug 2019 by O'Connor Uniting Church in: Reflections
Pentecost 11
Bible Readings
First reading: Jeremiah 1:4-10
Psalm: Psalm 71:1-6
Second reading: Hebrews 12:18-29
Gospel: Luke 13:10-17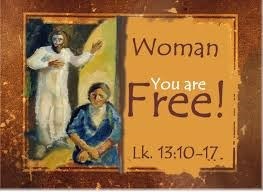 This healing story sums up, in a way,
the whole of Jesus' message.
Jesus wants us to have life in its fullness,
and sets out to free us from everything
that holds us captive.
This means sickness, but also human attitude
and judgements which imprison or constrict us.
https://www.sacredspace.ie/scripture/luke-1310-17-0
Sullivan's Trail - First Day at the Church's Pavilion!
Nicola Lambert had her first day in our pavilion last Wednesday, where she has beautifully set up her office to progress her Sullivan's Trail Project. O'Connor Uniting Church is partnering with her in this community venture.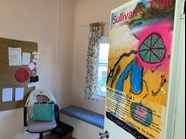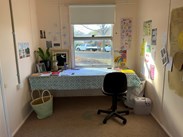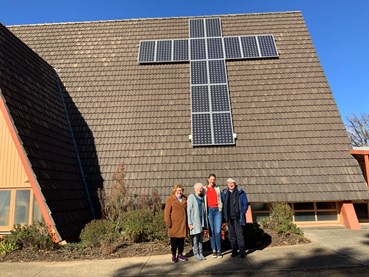 Below is an overview of the project provided by Nicola when she initially sought the church's support.
Sullivan's Trail is a public and history project developed to engage the community with the indigenous culture and urban waterways through Canberra. Following the open water drains, through our inner north suburbs, on to Sullivan's Creek through ANU campus and onto the lake. This project aims to create a cultural and creative corridor that links our city to its suburbs, celebrate and strengthen cultural heritage and promote the wider understanding of the culture of indigenous and non-indigenous communities through stories collecting and sharing of these stories in a visual and site-specific context.
The intention of Sullivan's Trail is to activate sites along the route responding to individuals, organisations and community stories. At each stage of the project we will aim to embed Indigenous ceremonies, dreaming and learning by incorporating Welcome to Country, Smoking ceremony and hearing local Indigenous stories. The participants will then be asked to reflect on their time here. Each project will be supported by a local Indigenous Leader, a creative facilitator, an artist and environmental educator from Molonglo Conversation Group. The responses can be varied from planting to poetry to sculptures, to painting the paths and open water drains. We are only limited by our imagination.
I am a community artist and creative producer. Sullivan's trail is a passion project for me. I have been developing relationships with the local Aboriginal community over the past number of months through invitation to help me mould the direction of this project. I have negotiated permissions with ACT Transport and City Services to move forward with delivery of a number of pilot program along the route. I have had many conversations with the local community with an overwhelmingly positive response to Sullivan's Trail vision.
I am seeking support from O'Connor Uniting Church to come on board as a partner to provide an office space for the project to have a permanent location that is situated close to Sullivan's Creek route. The intention is that we will have access to this office space 3 days a week,  it will be a flexible space where the core group of co-creators can work from and have a permanent installation / vision board on the back wall of the office space. We would also need access to the main hall or church to host workshops with members of the community in relation to Sullivan's Trail.
As this is a passion project and we will be relying on project-based funding over the next 18 months - 2 years we do not have a budget for ongoing venue hire. As the project moves out of the pilot stage we predict that this situation will change.
Nicola Lambert Founder and Director, Create and Sow Community Art Interventions, February 2014 – Present