Easter 3
Bible Readings
First reading: Acts 2:14a, 36-41
Psalm: Psalm 116:1-4, 12-19
Second reading: 1 Peter 1:17-23
Gospel: Luke 24:13-35
The Walk to Emmaus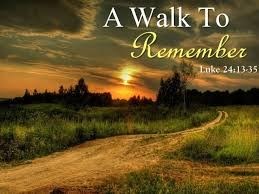 Now on that same day two of them were going to a village called Emmaus, about seven miles from Jerusalem, and talking with each other about all these things that had happened. While they were talking and discussing, Jesus himself came near and went with them, but their eyes were kept from recognizing him...
When he was at the table with them, he took bread, blessed and broke it, and gave it to them. Then their eyes were opened, and they recognized him; and he vanished from their sight.
They said to each other, "Were not our hearts burning within us while he was talking to us on the road, while he was opening the scriptures to us?" That same hour they got up and returned to Jerusalem; and they found the eleven and their companions gathered together... Then they told what had happened on the road, and how he had been made known to them in the breaking of the bread.
Luke 24:13-16, 30-33, 35
Prayers
We pray for all our church family during this time of social isolation, remembering those living alone and those with health concerns.
We pray for all affected by the coronavirus, for healing and peace. We pray for containment of the virus in Australia and across the world, and wisdom and guidance for all world leaders and their advisors.
We pray for an outpouring of God's Spirit over all the earth, that in this distressing time many would seek and find faith and hope in God.
Some Sunday Worship Resources
Canberra City Uniting Churchhas commenced a new  YouTube video channel for worship services.


To subscribe go to

Canberra City Uniting Church@YouTube

.

Sunday worship and teaching on free-to-air TV.
ABC (CH 2, 20)         Songs of Praise 11.30am
WIN (CH 8, 80)         Mass 6.00am; Hillsong 6.30am; Leading the Way 7.00am
WIN BOLD (CH 81)  Key of David 7.30am
7two (CH 62)            David Jeremiah 8.00am
Everybody has a faith story                    A Reflection on Luke 24:13-35
Today's Gospel is all about story-telling. Those two disciples had a story to tell, one full of disappointment and disillusionment. It was really bothering them. Jesus showed such delicacy by joining them as a stranger. People often find it easier to unburden on a stranger. Straightaway he showed an interest in their lives by asking them what they were talking about. Thus, he created a climate in which they felt like talking. And they did talk. They poured out their sad story to him.
Then what did he do? He began to tell his own story. For them the cross had been an insurmountable obstacle. It had signalled the end of their interest in Christ. But now Christ showed them how the Scriptures had foretold the cross.
He showed them that the cross, far from being the end of the dream, was paradoxically the means by which it became a reality. He helped them to find a meaning in their story by showing them the meaning he had found in his own.
Thus, he enabled them to turn their lives around.
As said earlier, everybody has a story to tell. Everybody wants to be taken seriously. Alas, many never get a chance to tell their stories. They never encounter someone to whom they can unwind, someone who will listen to their story and say: "It's okay". To accept one's story means there is no longer any room for self-hatred. It is especially by accepting the dark side of our story that we learn what God's grace and love are all about. However, in the final analysis, it is only the Christ Story (glory achieved through a sharing in his suffering and death) that helps us to make ultimate sense of our own story. Anything else is simply not adequate.
Every human story is the story of a journey, the journey of life. Christ is with us on this journey, even when we don't recognise him; but we must not see our journey in isolation anymore. We are members of the people of God.
This means we make the journey to the Father's Kingdom together.
"Wherever people have lived, there is a story to be told."
Fr. Flor McCarthy
https://uploads.weconnect.com/  Easter 3A Reflection 2017.pdf
From Rev Andrew Smith, Presbytery Minister: Congregation Futures
I will spend at least one period of the week learning Christ
During this time of being homebound there are stories of people being quite creative in and around the home. For some this is out of necessity to be keeping children entertained and to stimulate their learning. For others there may be a little more leisure in their creativity. People are setting up chook houses in their backyards (maybe to have a surer supply of eggs when shelves are sometimes empty!). Others are spending more time in the garden. Perhaps someone in your home is experimenting in the kitchen with new recipes. Being around the home more, there is greater opportunity for recipes having several preparation steps that need to be done at intervals in advance of cooking. Marinating comes to mind. It always takes organisation and time. The more time the better, and tastier!!
Marinating is an image that Michael Frost uses for his fourth habit of highly missional people in his handy little book "Surprise the World". He speaks of us marinating our minds and souls in the life of Jesus Christ through the habit of spending at least one period of the week learning Christ. This is going to take time. And like marinating food, the more time the better, and the greater distinctive flavour you'll have as a Jesus follower.
In addition to the devotional value of growing closer with Jesus through this habit, there is the missional value: we need to know Jesus Christ if we are going to share him as the reason for the hope we have. As Frost says: "'Learning Christ' helps us understand Jesus better and provides the tools for appropriating his example into our lives".
Frost doesn't want this habit to replace whatever other regular devotional or Bible reading habits you currently have. Rather, he wants this habit to work in addition to those habits. He suggests three things you might do with the additional time:
Read, reread, and reread again the four Gospels;
Read about Jesus in the many scholarly and popular works written about him;
View filmed versions of the Gospels.
In doing this we will marinate our minds and souls in the story of Jesus – slowly but surely orienting our lives toward the things of Christ, and becoming deeply familiar with his story "so we can share it whenever anyone asks for the reason for the hope we have in him".
Imagine being so caught up in the life Jesus Christ that it bubbles up in your choices, your actions and your words – somewhat like a teenager who is captivated by a celebrity, or a sportsperson who admires and emulates a professional sportsperson, or an intellectual whose worldview is framed by a particular scholar.
In this time of being homebound perhaps you are finding yourself with more time. Perhaps you are finding yourself with less time as boundaries between work, home and schooling children become very blurred. In either case, Frost urges us to marinate our minds and souls in the story of Jesus.
Bread of Life
Christ is the heavenly food that gives
To every famished soul
New life and strength, new joy and hope,
And faith to make them whole.
We all are made for God alone,
Without him we are dead;
No food suffices for the soul
But Christ, the living bread.
Timothy Rees TiS 522, AHB 445