Sunday 28th April 2019
28 Apr 2019 by O'Connor Uniting Church in: Reflections
Bible Readings
First reading: Acts 5:27-32
Psalm: Psalm 118:14-29 or Psalm 150
Second reading: Revelations 1:4-8
Gospel: John 20:19-31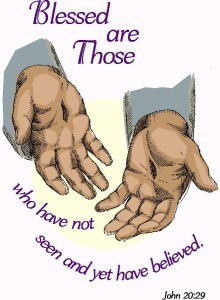 Uniting Church in Australia - Prayer for Sri Lanka
Uniting Church President Dr Deidre Palmer has offered prayers and support to the people of Sri Lanka in the wake of the recent Easter Sunday bombings.
"These were horrendous terror attacks against Christians at worship on Easter Sunday and against innocent people sharing time with friends and families," said Dr Palmer. "I condemn these barbaric and cruel acts. Everyone, wherever they are, should have the right to worship in peace and safety."
News agencies report 321 people were killed and 500 injured in a series of coordinated blasts.
Among those killed were Australian woman Manik Suriaaratchi and her 10-year-old daughter Alexendria, who died in a bomb attack during Easter mass at St Sebastian's Catholic Church in Negombo.
"As Christians, we believe we are called to create human communities, in which we live at peace with one another and respect one another's faith traditions," said Dr Palmer.
"We pray for people who have lost loved ones in the attacks and for all those who have been injured and traumatised by what they have witnessed, on this holiest of days in the Christian calendar."
"In the Risen, Crucified Christ, God speaks to us of love winning out over hate, peace and love for our neighbour being stronger than violence.
"We express our solidarity with our sisters and brothers in Christ in the churches in Sri Lanka, whose life and mission bear witness to this love and peace of Christ."
Dr Palmer and Dr Sureka Goringe, the National Director of UnitingWorld, have written to the Uniting Church's partners in Sri Lanka, the Methodist Church in Sri Lanka to let them know the Uniting Church is praying for them at this time.
"In the shadow of the violence perpetrated against our sisters and brothers in Sri Lanka, may the church in Sri Lanka be comforted by God's love and the solidarity of the communion of the global Christian community," said Dr Palmer.
"May God strengthen and bless our embodiment of Christ's message of peace and reconciliation."