Sunday 28th July 2019
28 Jul 2019 by O'Connor Uniting Church in: Reflections
               Pentecost 7
Bible Readings
First reading: Hosea 1:2-10
Psalm: Psalm 85
Second reading: Colossians 2:6-15 (16-19)
Gospel: Luke 11:1-13
          Lord, teach us to pray
                 Luke 11:1-13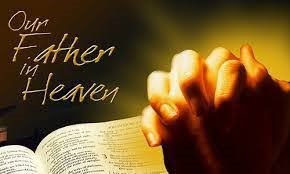 First, when you pray, say "Father".
Jesus teaches his disciples and us that we should call God 'Father' when we pray. This is a revolutionary teaching because Jewish people called God with names such as
El Shadai, 'God Almighty' or 'Adonai', 'my Lord'.  …
When we call God 'father' it connects God and us in a very close and intimate relationship. When we call God 'father' in our prayer we feel his arms of love. …
God knows all our needs and what we go through.
We can come to him and pour out our hearts to him.
God is our loving and compassionate father. …
And even though we have earthly fathers,
they can't be with us forever.
But God is our everlasting father
who can be with us forever.
http://www.washingtonubf.org/wash/jesus-teaches-us-how-to-pray-luke-111-13/
…prayer is not a transaction, nor is it about changing God. It's about opening our hearts.
Reverend Howard Thurman (1900–1981) 
From Richard Rohr's Daily Meditation 22/07/2019