Sunday 2nd August, 2020
2 Aug 2020 by O'Connor Uniting Church in: Reflections
Pentecost 9
Bible Readings
First reading: Genesis 32:22-31
Psalm: Psalm 17:1-7, 15
Second reading: Romans 9:1-5
Gospel: Matthew 14:13-21
Feeding the Five Thousand
Matthew 14:13-21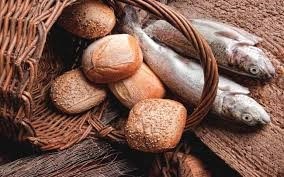 This great miracle took place at the most unlikely moment: at the end of the day, when it was time to return home, when the disciples realised they had only five loaves and two fishes. Yet Jesus asked his disciples and his hearers to trust him, to "sit down" on the grass as if they were not in any hurry.
Those who trusted got more than they needed.
I look back on some moments when I too experienced God's generosity in my life, and I ask to know how to "sit down" in trust in the moment of crisis. 
https://www.sacredspace.ie/scripture/matthew-1413-21
Worship Service Changes
Our Covid safe plan sets out Uniting Church requirements for social distancing and hygienic practices.
Summary of Practicalities for Re-gathering
Please do not come to church if you are unwell, and no hugging or handshaking yet 😊
Entry must be by the front door and exit via the back (flower room) door. Anyone who is unable to negotiate the back steps may leave via the front door
hand sanitiser is necessary and will be provided by the church for all to use upon entry
The steward will record your attendance upon entry
our church can seat 18 people socially distanced
singing and morning tea are not yet possible
church bibles and hymn books cannot be used – you are welcome to bring your own bible
communion, the offering and passing the peace will be done in a non-contact way
Ventilation through the church is required to carry away any infectious droplets, which will be accommodated by the front and back doors being left open
touched surfaces must be cleaned before and after services. Synod requires that no person over 70, or over 60 with chronic ailments do any cleaning due to the greater health risk if the virus is present.
our hire groups must prepare their own Covid Safe plans for approval prior to meeting on our premises, and they will do their own cleaning.
We pray for
the safety and good health of our congregation as we meet together again and those in our church family who are unable to come to church due to health concerns
the community and faith groups who were using our facilities before the COVID shutdown. This week we ask God to bless Primrose Services, who are unable to return yet due to the vulnerability of their clients; and the Habesha Fellowship who also have not yet returned to our facilities.
guidance for the development of the Covid safe plans for the groups considering returning or commencing to use our facilities.
wisdom for the Victorian Government following last week's record Covid-19 case numbers, protection for residents and staff of aged care facilities, and God's presence and comfort to be with the sick and dying
patience, understanding and commitment by people everywhere to observe Covid-19 restrictions
We give thanks
for our people who have received healing and blessing this past week
for the Federal Government's new Closing the Gap Agreement that has been developed in partnership with our Indigenous and Torres Strait Islander people, and we pray for its successful implementation.
Pastoral Letter from Rev Dr John Squires, Presbytery Minister – Wellbeing
COVID19 Safety Plans
If you are holding any activities in person on Uniting Church property, please remember that you MUST have registered your COVID Safety Plan for that activity with Synod and Presbytery. You should maintain social distancing, ensure the 4 square metre rule is adhered to, collect contact details from those attending, ensure that cleaning is undertaken both BEFORE and AFTER the activity. Good ventilation, no physical contact, no singing, and no serving of food made in people's homes, should all be part of the plan.

These requirements are demanding. We are all in chartered waters. Let us hold one another in prayer and work together in constructive ways. The dangers from the virus are high; we need to minimise the risks in every possible way. There is much energy been directed towards ensuring that we all do this. 

Let us value the commitment and dedication of all who are focusing on these important tasks.
As I heard one person say, recently: "let us love another enough that we stay apart from one another".
A paradox, but a deep truth for our times.