Bible Readings
First reading: Acts 16:16-34
Psalm: Psalm 97
Second reading: Revelation 22:12-14, 16-17, 20-21
Gospel: John 17:20-26
30 May 2019
Ascension Day
Acts 1:1-11, Psalm 47 or Psalm 93, Ephesians 1:15-23, Luke 24:44-53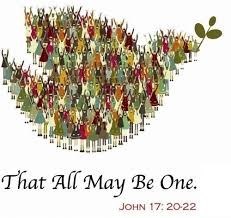 "I ask not only on behalf of these,
but also on behalf of those
who will believe in me through their word,
that they may all be one.
As you, Father, are in me and I am in you,
may they also be in us,
so that the world may believe
that you have sent me.
The glory that you have given me
I have given them,
so that they may be one,
as we are one"
Redfern Prayer for National Reconciliation Week
by Uncle Ray Minniecon
God of our Dreaming. Father of all our Aboriginal nations in Australia. You have lived among us since time immemorial. We have always known You. You gave this land to our Aboriginal nations. You have not dispossessed us nor destroyed us.
People from other lands, who do not understand our unique culture, our unique lifestyle and our unique heritage have come and destroyed much of our way of life. Many of these people from other lands now want to understand and reconcile with us.
But for many of us Aboriginal people, we find this reconciliation business a little difficult.
Too many of our children are still in jails.
Too many of our children are still living in sub-standard housing.
Too many of our mothers are living on the streets or in refuges.
Too many of our children are still uneducated.
Too many of our children have no land and no community to go back to.
Too many of our children have not got good opportunities for good employment.
Too many of our children are living in extremely unhealthy environments.
Too many of our children are living among violence and abuse.
Too many of our children are dying to drugs and other soul-destroying substances.
God our Dreaming and Creator of our people, we sometimes feel overwhelmed by these things. Many of us feel like we are refugees in our own land.
Today we are coming together again on one of our battlegrounds to cry out to You for mercy and justice for our children, for our families and for our land.
We pray that more resources will be given to our local community organisations to help us grow healthy and strong.
We pray that the peoples from other lands will be given a heart of flesh instead of a heart of stone so that they can understand us and support us properly.
We pray that your Spirit will help and encourage us to grow good strong Aboriginal leaders.
Father we want to grow strong and healthy again in our own land. We want to take our rightful place in our land and make our contribution to the re-building of our families, our communities and our nation.
Please hear our cries for justice. We ask these mercies in the name of Your Son. Amen
Statement on ABC News report Sunday 26 May 2019
ABC News has today regrettably published a story seeking to highlight divisions within our Church over our decision last year to allow ministers and authorised celebrants the freedom to perform same-gender marriages.
The report contains many factual errors, false allegations and misrepresentations that we will seek to address with the ABC in due course.
By way of background, the journalist who produced the story first approached the Church back in February. It quickly became apparent that his story was based on the premise of division in spite of all evidence presented to the contrary.
As a result, the decision was taken not to cooperate with the ABC on this story.
Many respected Uniting Church leaders and theologians refused the journalist's requests for comment.
For those members who may be disturbed to read, see or hear this report today, please be assured that right across the Uniting Church, leaders continue to work in good faith across our theological diversity.
The Uniting Church in Australia Assembly's decision to recognise two statements of belief on marriage remains in place.
This decision allows ministers and celebrants authorised by the Uniting Church the freedom to conduct or to refuse to conduct same-gender marriages.
I want to reassure all members of the Uniting Church - your rights to follow your beliefs on marriage will continue to be respected and protected.
The voices in today's ABC report are in no way authorised by the Uniting Church, and they are certainly not representative of the abundant goodwill among our Church members, and the way in which we continue to witness to God's abundant grace in our community.
Dr Deidre Palmer
President
Uniting Church in Australia Assembly
26 May 2019