Easter 4
Bible Readings
First reading: Acts 2:42
Psalm: Psalm 23
Second reading: 1 Peter 2:19-25
Gospel: John 10:1-10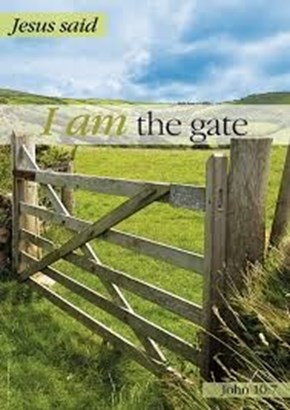 So again Jesus said to them, "Very truly, I tell you,
I am the gate for the sheep. All who came before me are thieves and bandits; but the sheep did not listen to them.
I am the gate. Whoever enters by me will be saved, and will come in and go out and find pasture. The thief comes only to steal and kill and destroy. I came that they may have life, and have it abundantly.                     John 10:7-10
The picture of Jesus as a gate has with it the imagery of both a closed gate, behind which the sheep are safe and also an open gate which leads to life giving pastures.  The open gate allows the shepherd to come in to call and lead his sheep to where they can graze in safety.  The Psalm which is set for today, Psalm 23, and the rest of John 10 talks about Jesus being our shepherd, someone who protects, guides, leads and cares for us as individuals.  He leads us out into the freedom of a life that is truly fulfilled. 
http://www.thisischurch.com/christian_teaching/lectionary_bible_notes/lectionarybiblenotesyeara/easter4.htm
Prayers
Lord, we thank you for improvements in the control of the coronavirus in Australia and pray for patience to continue to do what is necessary to keep it at bay.
We pray for wisdom for our governments and leaders, and the leaders of all nations, in their management of the coronavirus crisis and their country's economy.
We pray for all medical and hospital staff here and globally, for their protection and safety in the front line of treatment of the virus.
We pray for those who have lost their employment or business and are struggling financially.
We pray for comfort and peace for all who are lonely, distressed or struggling in other ways during this unsettling time.
We pray for all our church family during this time of social isolation, especially remembering those living alone and those with health concerns.
Pastoral Letter from Rev Andrew Smith, Presbytery Minister: Congregation Futures
I will journal throughout the week all the ways I alerted others to the universal reign of God through Christ
In an online worship service I participated in recently the preacher spent some time with the words of the resurrected Jesus in John 20: "As the Father has sent me, so I send you". In what the preacher went on to say I was encouraged in these times of COVID-19 restrictions to think and act for ways of safely being with and blessing our local communities again.
Reflection on how the church has invested its time and energy in this first month of restrictions indicates that on balance we have dealt first with the inner life of the church – that is, getting worship and pastoral care sorted. We also need to recall our outer life – that we are a sent people. We are sent from our gathering at a distance for worship and pastoral care to live in and with our local communities as part of the light of Christ. The preacher was urging us to recall that we are a sent people (and of course there are wonderful examples of congregations already doing this).
To help us find our way in being a sent people in these times of COVID-19 restrictions, Mike Frost has listed 35 ways to love your neighbour right now. You can see these at: https://mikefrost.net/35-ways-to-love-your-neighbors-right-now/ Since Frost is writing for a world wide audience, some suggestions may seem fitting for our context while others may not.
Frost gives these suggestions because he is wanting you to begin to identify yourself as a missionary – a sent one. This is the reason for his fifth habit of highly missional people in his handy little book "Surprise the World". The fifth habit is … "I will journal throughout the week all the ways I alerted others to the universal reign of God through Christ".
Journaling is a helpful tool. Frost points out that it will help you sort through the myriad everyday ways you operate as God's ambassador in your world. Further, "it will start to shape the way you think about yourself. You will eventually come to self-identify as a missionary, a sent one. You'll be looking at your life and how you conduct yourself differently".
As we think about journaling all the ways we alert others to the universal reign of God through Christ, you may ask, what does the reign of God look like? Frost offers some suggestions:
It looks like reconciliation: reconciliation between God and humankind, and between people and all creation. So journal how you mediated between warring colleagues at work; how you've reconciled with an estranged friend or family member; how you shared the Good News that God reconciles us to Godself through Jesus; or how you cared for creation.
It looks like justice: the call to defend and uphold the dignity and well-being of all persons, especially the poor and powerless. So journal your involvement with drug reform; your support for refugees and asylum seekers; your advocacy for affordable housing; your purchase of fair-trade products; your donations to causes; and the list goes on.
It looks like beauty: beauty often leads us to an awe-encounter with God – Psalm 8: "When I consider … the work of your fingers … what is humankind that you are mindful of them?". So journal the times you take friends hiking, climbing mountains or walking on beaches. Journal when you create beautiful music, art, craft, and food for others.
It looks like wholeness: check out Luke 7:22 for the credentials Jesus gave to prove he was the Messiah – the blind receive sight, the lame walk, those who have leprosy are cleansed, the deaf hear, the dead are raised, and the good news is proclaimed to the poor. So journal how you help bring emergency relief to victims of natural disasters or when you are part of repairing a broken relationship. Frost wants us to go further. He wants us to pray for supernatural healing in people's lives and to journal the prayers and what happens.
I mentioned above that there are congregations already recalling they are sent people. In these times of COVID-19 restrictions these congregations are already alerting others to the universal reign of God through Christ. The most recent examples I've come across are from St George's Uniting Church in Eden. Have a look at their website for creative ways they are being with their local community, and are being part of forming the community into reflections of the reign of God. Here is the link: https://eden.uca.org.au/about-us/
To help you grow in self-identifying as a missionary – as a sent one, take on this fifth habit of journaling throughout the week all the ways you alert others to the universal reign of God through Christ.