Sunday 6th September 2020
6 Sep 2020 by O'Connor Uniting Church in: Reflections
Pentecost 14
Bible Readings
First reading: Exodus 12:1-14
Psalm: Psalm 149
Second reading: Romans 13:8-14
Gospel: Matthew 18:15-20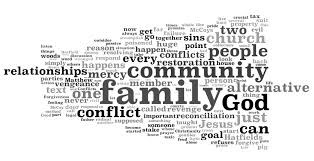 Jesus promises his continuing presence. Even as I pray alone, I am united with others who pray at this time, with all of those who read this gospel today, with those who use Sacred Space just now. I grow in awareness that Jesus wants to be present to me, is present to me, loves me and calls me to life.
https://www.sacredspace.ie/scripture/matthew-1815-20 
Please pray for
• safety for all while in shutdown, remembering those with health concerns. 
• wisdom for our State and Territory Governments in managing the COVID-19 crisis and border restrictions.
• Discernment and courage for the Commonwealth Government in regard to Australia's economic downturn.
• Pray for those people in Canberra whose employment or business have been affected by COVID-19.
• Patience, understanding and commitment by people everywhere to observe Covid-19 restrictions.
WLW App
With Love to the World has been meeting needs for the past 45 years with its daily commentaries on lectionary and associated Bible passages, prayer suggestions, and questions for individuals and groups. Our daily Bible reading guide is now available as an app, as well as in booklet form, making it easily available wherever you may be. The annual subscription is just $24.
To subscribe:
 Search your App Store or Play Store for With Love to the World
 For booklets, contact our office at wlwuca@bigpond.com or phone (02) 9747 1369
 Visit our website http://www.withlovetotheworld.org.au/
For more information, contact the Editor, Dr Peter Butler butler@wagga.net.au