Sunday 7th April 2019
7 Apr 2019 by O'Connor Uniting Church in: Reflections
Bible Readings
Isaiah 43:16-21, Psalm 126
Philippians 3:4b-14, John 12:1-8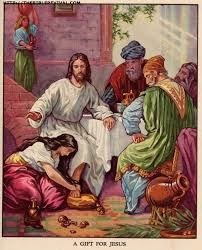 A gift for Jesus: John 12:1-8
A coalition of Jewish authorities have begun to openly plot Jesus' murder (11:53). Jesus himself has spoken of giving up his flesh for the sake of the world (6:51). Lazarus has been raised from the grave (chapter 11).  The way of the cross never flinches from the realities of the world; though truthfully, we often prefer to avoid them. 

In the passage today Mary confronts these truths in a moment of liturgical poetry. She understands the trajectory of Jesus' ministry, and expresses her faithfulness and grief by preparing his body for burial, even as he is alive and present in her home. Just as Mary has washed Jesus' feet – so too Jesus will soon wash the disciple's feet (John 13). Following Jesus requires us to be present to the brokenness of the world within us and before us. Death will not have the final word, but we still grieve its wounds.
What grief or pain do you find hardest to face?
insights Autumn 2019 p 41
Katrina Tjitayi is an indigenous Pitjantjatjara women who wrote the prayer below as a child after hearing God's word around the campfire, with visitors and each other.  She is now part of the bible team translating the whole bible into Pitjantjara language.