Sunday 9th December 2018
9 Dec 2018 by O'Connor Uniting Church in: Reflections
Bible Readings
Malachi 3:1-4;  Luke 1:68-79;
Philippians 1:3-11;  Luke 3:1-6
Second Sunday of Advent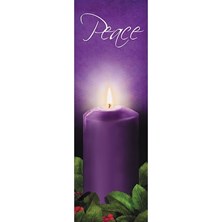 Light the candle of Peace
 Dear Jesus, you entered our world at Christmas as the Prince of Peace.
This Advent, as we seek to become the-best-version-of-ourselves, fill us with a deep and abiding peace. Help us share that peace with everyone we encounter, especially those who need it most.
Amen.
https://dynamiccatholic.com/best-advent-ever/advent-prayers
Peace with Others
"Blessed are the peacemakers for they will be called the children of God" (Matthew 5:9).
Peace with others begins as we understand that God has called us to be peacemakers in our world. Is there somewhere in your own world where you can be a peacemaker this Christmas? Is there an invitation that needs to be extended to smooth over a fractured family relationship? Is there an apology to be made or a silence to be broken that has stood as a barrier for too long? Don't miss the blessing God promises in your life as you respond to His call to be a peacemaker in your own circle.
We can help bring peace to our world one heart at a time.
                 https://thelife.com/advent-week-2-the-candle-of-peace
The Prayer of St Francis of Assisi
Lord, make me an instrument of your peace. Where there is hatred, let me sow love; Where there is injury, pardon; Where there is doubt, faith; Where there is despair, hope; Where there is darkness, light; and Where there is sadness, joy… Divine Master; Grant that I may not so much seek to be consoled as to console; to be understood as to understand; to be loved as to love; For it is in giving that we receive; it is in pardoning that we are pardoned; and it is in dying that we are born to eternal life. Amen.
Human Rights Day 10 December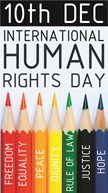 Human Rights Day is observed every year on 10 December, the anniversary of the day that the United Nations General Assembly adopted, in 1948, the Universal Declaration of Human Rights. In 2018, Human Rights Day will mark the 70th anniversary of the Universal Declaration of Human Rights.
The Universal Declaration of Human Rights is an international document that states basic rights and fundamental freedoms to which all human beings are entitled. The Universal Declaration begins by recognising that 'the inherent dignity of all members of the human family is the foundation of freedom, justice and peace in the world'.
It declares that human rights are universal – to be enjoyed by all people, no matter who they are or where they live.
The Universal Declaration includes civil and political rights, like the right to life, liberty, free speech and privacy. It also includes economic, social and cultural rights, like the right to social security, health and education.
https://www.humanrights.gov.au/publications/what-universal-declaration-human-rights